"The year is 2514. Humanity has explored to the edge of Known Space, discovering along the way that they are not alone in the universe. The journey has not only required the knowledge of interstellar space travel, but also the mastery of the 'inner' spaces of their own minds.
"But exploration is a dangerous business. The Gildae engines that permit transit between the stars put engineers in a bind, forceing them to choose between size and speed. Thus, exploration crews must be optimized -- the best and the brightest, psi and non-psi..."
So begins the tale of a ship, its crew, the kids that stow away, the magical world they accidently land on... Phoenix Dawn is a manga-style comic I've been meaning to write for a while, usuing characters I've had around for years. It's a little bit of everything -- comedy, romance, action, drama, science-fiction, fantasy (a lot of fantasy). And I 'am influenced by' [read = steal, file off the serial numbers, and scavenge the parts] from practically everything -- anime, video games, fantasy novels, other comics, you name it. Right now, I'm drawing the first issue, but feel free to browse around the site. Check the Character Biographies and the Background Information for more about the story.
Like my art? Want more? Visit my website!
August 22, 2002
Update your bookmarks! Phoenix Dawn has moved to a new home at Drowtales. Don't worry -- I'm still moving in there, and I will continue to maintain this site... but I will only upload finished issues of the comic here, while the other site will get a new page evry Monday and Thursday...
Oh, yeah... fixed some errors and added some art...
Arianna wants me to remind you if you have any questions about either world, the characters, or you (Or a character of yours) just need some good old-fashoined advice (Arianna specializes in villains, but she has no moral objection to helping a hero -- they can be just as stupid as villains), e-mail me at star_dolphin@hotmail.com. Be sure to mention what this is for -- I tend to delete odd messages from peopel I don't know. You letter may (and by may, I mean it's very likely, as I have no readers) appear in this feature.
Special Thanks To

My real-life friends -- you know who you are.
My online friends on the now-defunt Watch Out For Snakes board.
Cassie, our real-life Arianna.
Heather and Jennie, fellow online mangaka.
Kim and Amanda, and my brother, Ben, who seem to be inspired by me to become online mangaka.
Katie, Delwyn's #1 fangirl.
Monthly Art eXchange, for the free fanart and publicity.
The readers, fanartists, and other people who give me reason to continue.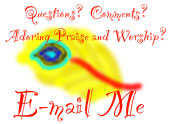 View My Guestbook
Sign My Guestbook
Web Rings and Banner Exchanges

Fantasy web manga exchange
Visitors since March 11, 2002.